A view of the new Samsung Galaxy S8 at its Samsung launch event, March 29, 2017 in New York City. 
Drew Angerer—Getty Images
Samsung Galaxy S8
Samsung hit a much-needed home run after the PR disaster caused by its Galaxy Note 7. That's what the Korean tech giant got with the Galaxy S8, a redesigned smartphone with a dazzling screen, long battery life, and a great camera. The S8's curved display and smaller bezels combine to give the feeling of a borderless screen, making it more adept at displaying games and movies. The S8 isn't perfect—its voice assistant wasn't ready at launch, and some found its fingerprint sensor to be awkwardly placed—but it's a big win overall.
Snapchat Spectacles
Much like Snapchat itself, you either get it or you don't. Snapchat parent company Snap Inc. demonstrated its mastery of artificial scarcity when it debuted its Spectacles video-recording glasses late last year. An easy setup process, good-enough video quality and stylish look made Spectacles a hit. But the company's distribution process—vending machines with limited stock that randomly appeared across the country—made them a phenomenon. From a hardware perspective, Spectacles could use improvement—they're not great when it's dark out and they're troublesome for prescription eyeglass wearers. But Snap's first foray into hardware shows promise at a time when camera companies like GoPro are struggling.
Here One
The next time you're sitting on a plane with a wailing baby, imagine being able to simply turn down the poor kid's volume. Or you're hanging out in a crowded bar, struggling to hear your friends, and you boost just their voices. That's the promise behind Doppler Labs' Here One earbuds, which let users manipulate sounds in the world around them thanks to onboard microphones and sound processors. In practice, the Here Ones are often better are quieting general background noise rather than specific sounds. But Doppler's innovation reveals how the headphone tech of tomorrow could make us masters of the audio universe around us.
Superpedestrian Copenhagen Wheel
Superpedestrian's robotic bike wheel augments cyclists' oomph by powering their ride up to 20 miles per hour for over 30 miles. Though it looks like a simple bike wheel, the Copenhagen packs impressive technology inside. An integrated motor powered by a battery provides the giddyup, a wireless sensor connects to smartphones for data crunching, smart-locking hardware makes sure no one makes off with this $1,499 wheel, and regenerative brakes add to the efficiency. Cycling purists might shun the device, but it's really geared for the increasing number of bike commuters out there. Turns out reinventing the wheel was worth it.
LG Signature W-Series "Wallpaper" TV
TV-makers today face an impossible task: On one hand, consumers expect new screens to make TV shows and movies look fantastic. On the other, they want these eye-popping displays to blend seamlessly into their living room. LG's Signature W-Series "wallpaper" TV accomplishes this masterfully. The $7,999, 65-inch display weighs just 16 pounds and is .15-inches thick, making it seem like the screen is floating on the wall. (It's mounted with magnets, no bulky brackets necessary.) But it's the OLED (Organic LED) technology that's most impressive. Pairing the blackest blacks possible with rich color results in a visually stunning high-contrast.
eSight 3
In a world of Internet-connected coffeemakers and juicers and whatnot, it's nice to find a gadget aiming to solve problems of a higher order. The eSight is an over-eye visor that helps legally blind people navigate via a combined high-definition camera and video display. Showing a live feed on a pair of OLED displays placed in front of the wearer's eyes, the lightweight, hands-free device do everything from read to provide directions. With virtually no input lag from the front-facing camera to the screens, eSight is a true augmented reality headset.
Microsoft Surface Laptop
Microsoft's new Surface Laptop is a first for the Windows maker: a conventional laptop that runs a stripped-down but more battery-efficient operating system called Windows 10 S. The company is aiming the $999 Surface Laptop at the educational set, but it's bound to go toe-to-toe with Apple's entry-level MacBook Air as well. Other hardware makers, meanwhile, will offer Windows 10 S on far cheaper devices that will compete with Google's Chromebooks. Together, the Surface Laptop and the new version of Windows show Microsoft is willing to mix things up in the notebook world—to consumers' benefit.
Kitty Hawk Flyer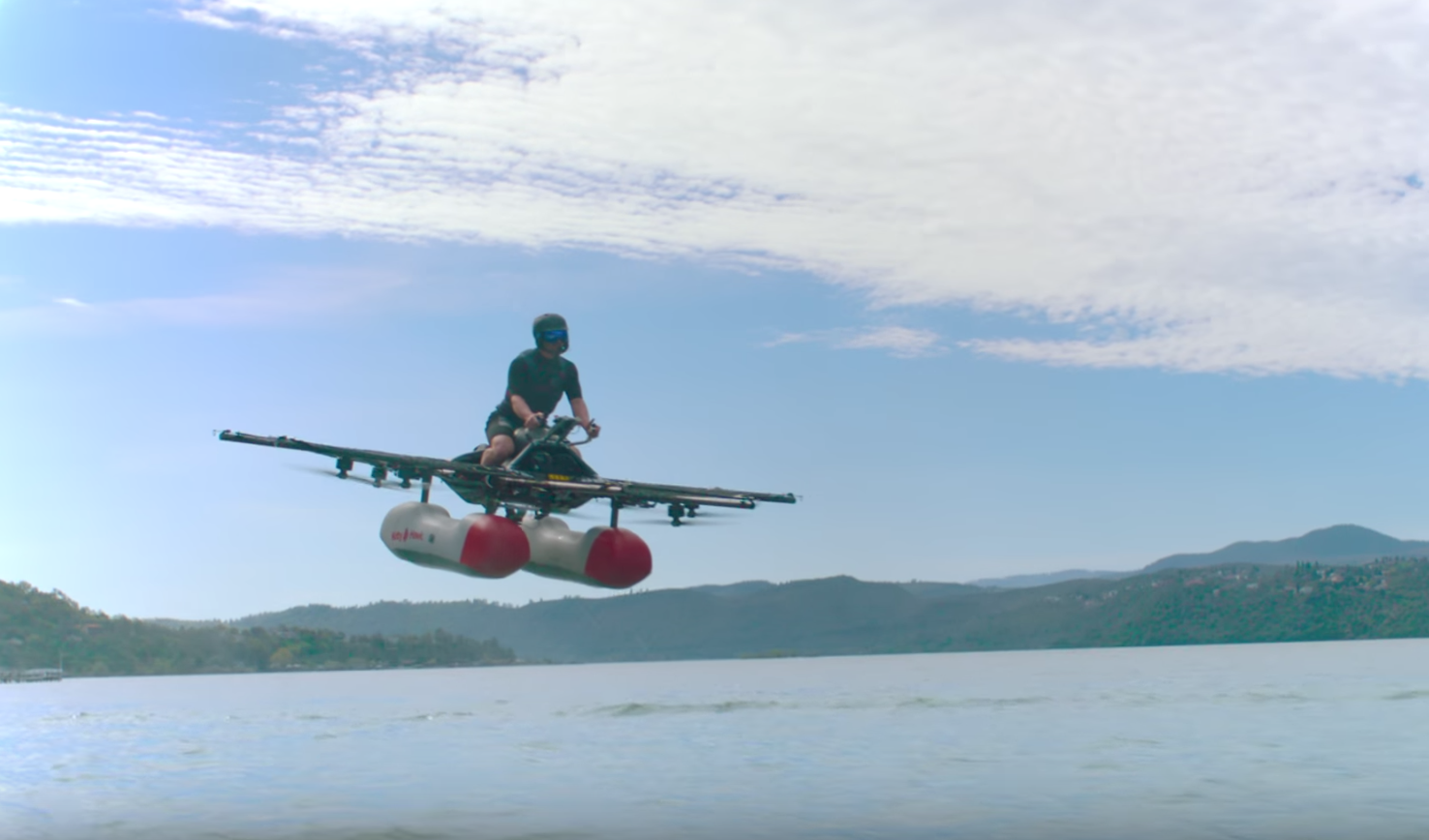 Okay so we get a new flying prototype that isn't actually a car every year or so. However, despite what the headlines say, the Kitty Hawk Flyer never really claims to be a flying car. Instead, it is an all-electric personal flying vehicle that just happens to be able to float on water as well.
The use case scenario for something like this is pretty limited, but the personal flying aspect of the Flyer is pretty exciting. The vehicle has already been certified by the Federal Aviation Administration and the company says it only takes minutes to learn how to fly. What's more, the founder of Google Larry Page is backing the company—so you know it's got some legitimate support.
Paying with Your Face

Face-detecting systems in China now authorize payments, provide access to facilities, and track down criminals. Will other countries follow
Shortly after walking through the door at Face++, a Chinese startup valued at roughly a billion dollars, I see my face, unshaven and looking a bit jet-lagged, flash up on a large screen near the entrance.
The 360-Degree Selfie

Inexpensive cameras that make spherical images are opening a new era in photography and changing the way people share stories.
S
easonal changes to vegetation fascinate 

Koen Hufkens

. So last fall Hufkens, an ecological researcher at Harvard, devised a system to continuously broadcast images from a Massachusetts forest to a website called 

VirtualForest.io

. And because he used a camera that creates 360
°
pictures, visitors can do more than just watch the feed; they can use their mouse cursor (on a computer) or finger (on a smartphone or tablet) to pan around the image in a circle or scroll up to view the forest canopy and down to see the ground. If they look at the image through a virtual-reality headset they can rotate the photo by moving their head, intensifying the illusion that they are in the woods.
All new screens will be ultra-thin OLEDs
Courtesy of Popular Science
Display tech moves incredibly fast. There will certainly still be some "antique" LCD monitor screens hanging around in 2020, but as far as new stock is concerned, it's easy to see the entire industry shifting to paper-thin OLED surfaces, many with touch capability.
"So surfaces will become computational," Liebhold says. "walls, mirrors, windows. I think that's legitimate."
PopSci Predicts: "Give that one a high probability," Liebhold says. Done.
A 1,000 computer will have the processing power of the human brain
Zephyris via Wikimedia
Cisco's chief futurist made this prediction a couple of years ago, and it seems reasonable in some ways. Not intelligence, really, but purely the "ability, the number of cycles," as Liebhold puts it, is on track given Moore's Law.
Designer Josselin Zaïgouche, who created the Zero Phone we've shown you half an year ago has now sent us an incredible design, the Apple Black Hole concept, possibly the iPhone of the year 2020. "What's going to happen in 10 years" asks the designer and the answer should look something like this
As you can see, the Apple Black Hole comprises 4 components: the charging base, the Prism, the Black Hole and the giftbox. Things get interesting when you try to use the handset… its central ball will levitate when you open your hand and all functions will be controlled in mid-air, with the aid of holographic technology. How cool is that?
The Black Hole concept phone can be connected to the charging base and used as a desktop device, still projecting the needed interface. Brilliant? Yes! Viable? Maybe…
Apple iPhone 8 concept shows, what a transparent smartphone would really look like
The next iPhone will mark the 10 year anniversary of the device's debut, and the rumors about what it'll look like are crazier and more outlandish. One of the wildest ones — that the iPhone 8 will be transparent.Apple is probably never going to build anything remotely like it, but the very idea of a transparent iPhone does make for exciting conceptual artwork.what prompted designers Curve to
Concept smartphone with a holographic screen of company RED
The company RED, which produces professional movie cameras worth tens of thousands of dollars, announced the creation of its own smartphone Hydrogen One. Its main feature will be a hydrogen holographic screen, allowing you to watch 3D video without the help of special glasses. According to the developer, the 5.7-inch screen of the device will use some kind of nanotechnology, which will allow switc