Aamir Khan reveals he doesn't charge for films
Aamir Khan, arguably one of Bollywood's greatest actors, has revealed that he stopped charging fee for acting in films a long time back.
The actor instead invests in the films he stars in.
"Actually, I don't charge a fee. It has been years since I have stopped charging a fee. If my film earns less, I earn less and if my film makes more money, I make more money," the Dangal actor said at an annual media interaction held on his 53rd birthday. He was responding to a question whether actors should consider "fee cutting".
Since Aamir's films have been doing well in the international market, he explained why Dangal and Secret Superstar earned more revenue in China as compared to India.
"I think India has as big a potential as China. I just feel that China has done major investment in the entertainment industry and its administration is also supportive," he said.
"They have built up a lot of screens, and that is why the business has gone up. I think if we build many more theatres here in India, which is such a large country with a huge population, we will get the same kind of growth in the entertainment and film industry. So it is just the matter of building the infrastructure in India," the actor added.
Responding a question regarding competition with Shah Rukh Khan and Salman Khan, Aamir said, "I don't think I am competitive at all with them and I don't think they are either. We all are doing our own stuff. If I am competing with anybody, then it is with myself. I challenge myself to do better work. I feel happy when I see other people's good work," he said.
The actor who made his Instagram debut on his birthday further said, "I am here because of my mother. So I have put her image on Instagram first. I felt I should put her image as whatever I am today is because of her. Kiran is using Instagram and she has enjoyed the process so I thought I will try it too."
Aamir is currently shooting for Thugs of Hindostan in Jodhpur alongside Amitabh Bachchan.
Imran welcomes Aamir Liaquat to PTI
KARACHI: Imran Khan on welcomed former Muttahida Qaumi Movement lawmaker Aamir Liaquat to Pakistan Tehreek-e-Insaf (PTI).
The announcement of Liaquat's induction into the party, along with actor Abid Ali, was made during the party's press conference in Karachi
During an interview to a private television channel, two days earlier, PTI leader Imran Ismail had announced that Liaquat and Imran would make the announcement of the former's induction to the party today.
Imran had appealed to the citizens of Karachi to come forward in the upcoming elections for the sake of their children.
In an apparent criticism of the ruling party, Pakistan Muslim League – Nawaz (PML-N), Imran stressed that the government should invest money in the education sector.
"The public can make its own roads, we need to invest in education," he said.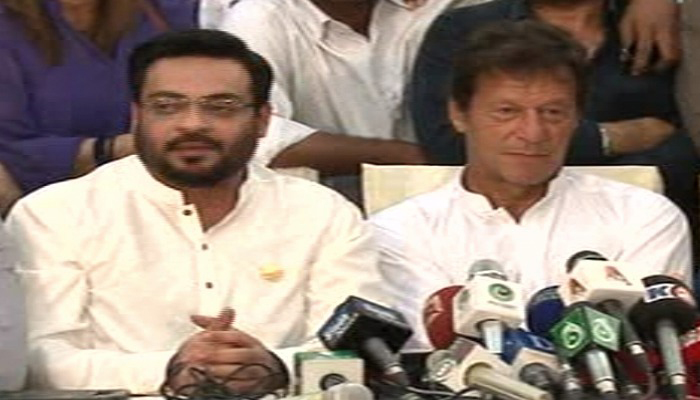 The PTI chief had earlier said that he is going to lead Pakistan into a new corruption-free era after the upcoming elections.
"This era will not remain. I will be your captain and you be my team in the upcoming general elections," he had told party workers during an address in Karachi.
The PTI chief is on a two-day visit to the metropolis as a part of his elections campaign across Pakistan.
Lashing out at his political rivals PPP Co-Chairman Asif Ali Zardari and PML-N supremo Nawaz Sharif, Imran alleged that both politicians are responsible for the countries problems.
"Nawaz and Zardari both are corrupt," he told attendees of the rally. "They [political leaders] engage in corruption and then burden the public with debt and taxes."
"The public is being pushed into poverty as the corrupt leaders get richer," Imran exclaimed.
He further said that corrupt practices of the country's leaders have destroyed public institutions. The PTI chief, in his address, promised to strengthen the country's institutions by eliminating corruption, if his party is elected in the general elections.
"The nation will transform when the same money that is looted from the public will be spent on them," Imran said, adding that the most important part of his party's agenda was to empower the hardworking people of the country.
Discussing the law enforcement authorities and security conditions across Pakistan, Imran alleged that the police force in Sindh and Punjab had been politicised.
The PTI chief also claimed that there were no extrajudicial killings cases against the police force in KP — where the PTI has ruled for five years after it was elected in the 2013-general elections.
Remembering Muhammad Ali, a star which would always       shine
If one has to pick one 'hero' who made the biggest impact on the Pakistan industry, it would be none other than the tall, broad and well- voiced Muhammad Ali.
He was someone who could make you laugh as well as cry with his voice. Make you feel his rage as well as his pain through his expressions. He ruled the film industry for 25 years and his films, made in the 60s, are as popular as they were on the day of release.
Ali's entry into films was not the one he wanted. He was cast as a villain in Fazal Ahmed Karim Fazli's Chiragh Jalta Hai in 1962, which was also a debut film of Zeba, Deeba and Kamal Irani.
Cinema was changing in '62, the film industry was well-established and had seen the prime of Santosh and Sudhir, who had romanced the ladies as well as fought the baddies.
Santosh Kumar (real name Musa Raza)and Sudhir (real name Sher Zaman)had starred in a film each before partition and had the knowledge which helped in shouldering the 'early' cinema in Pakistan. Both had acted in a variety of roles throughout the first decade; a rebel, thief, graduate or a prince, but had their limitations. The former seldom went loud while the latter rarely turned down his voice while acting. With the advent of Muhammad Ali, things changed for good.
Ali's first major role was Khamosh Raho (1964), which bagged him his first Nigar Award for best-supporting actor. Riaz Shahid's dialogues and direction from Jamil Akhtar has turned the film into a classic. Riaz's Farangi, which had Sudhir as the protagonist could get some awards but not the 'Best Actor', which went to Waheed Murad.
Next year, Ali bagged the best actor's Nigar Award for his role of a confused Nawab in Kaneez. Written by Ali Sufyan Afaqi and directed by Hassan Tariq, the film starred Santosh Kumar, Sabiha Khanum, Waheed Murad, Zeba and Talish, but despite no songs to his credit; Ali's power-packed performance sometimes was unmatchable.
Next year, Riaz Shahid's dialogues for Aag ka Darya bagged Ali his third Nigar Award in three years, turning him into a Super-Star. Ali portrayal of a 'daku'[dacoit] and Shamim Ara's role of 'tawaif' [courtesan] was the highlight of the film.
In 1967, he married his frequent co-star Zeba and the formed a production house Ali-Zeb. Aag and Jaisay Jaantay nahin were their productions, which had excellent songs. With the introduction of Nadeem as a 'hero' from East Pakistan, 'Best Actor' award eluded Ali for 1967, but in 1968 he got it back for Saiqa.
Shamim Ara turned producer with the film and it is rumoured that Waheed Murad refused the role as it was completely overshadowed by Saiqa.
Ali, with his power-packed performance, turned it into something worth remembering, and the climax when he stood up against traditional values, still brings one to tears.
With Shabab Kairanvi's Insaaf aur Qanoon, andInsaan aur Aadmi, he gave new meanings to 'court scenes'. His voice variation, face expressions and deep involvement are still unmatched, even after nearly five decades of their release.
Ali started to act as 'big brother' to younger actors by mid 70s; even then he took the glory away from the 'heroes' on most occasions. Pervez Malik's Dushman, Iqbal Yusuf's Soorat Aur Seerat, Iqbal Akhtar's Jub Jub Phool Khile and S Suleman's Gharana being prime examples.
In Josh (1979), he was a gunslinger from the Wild West, in search of the killer of his family. He turned to character roles and gave excellent performances in Salakhain (1977), Tere Bina Bhi Kia Jeena (1982), Doorian (1984) and Bobby (1984). He reduced his work by mid-80s, due to health reasons, but his last major role was that of Dino Chacha in Saeed Rizvi's Shani (1989)- Pakistan's first science fiction film. He even worked in an Indian film Clerk, in the same year, which was produced by his friend and Indian actor Manoj Kumar.
He was known as the Shehenshah-e-Jazbat [King of Emotions] for his emotional acting. Muhammad Ali did all kinds of roles in his career. He had been a soldier, a swordsman, a dacoit, a country bumpkin, a patriot, a rebel, a conman, a cowboy and even a governor.
His 12th death anniversary is being observed today (March 19). Exactly 10 years before his demise, I managed to have a chance meeting with him at the Sheraton Hotel, (now Movenpick).
The Sixth Cricket World Cup was being held in Pakistan, India and Sri Lanka and I just met various cricketers staying at Pearl Continental Hotel, which was situated across the road. My friend, who was irritating the foreign players by asking their complete names, tried the same with Muhammad Ali with a 'Still taking your autographs' taunt. 'What do you mean by still? A star always shines', came the reply, which is still fresh in my memory after 22 years. Muhammad Ali, among other stars, would definitely shine forever, but a little brightly.
Islamabad storms into PSL final as Ronchi cleans up Karachi
DUBAI: Another aggressive batting display by Luke Ronchi made the 155 chase look easy for Islamabad United in the qualifier against Karachi Kings in Dubai on Sunday.
What could be easily described as 'the best innings of the PSL', the Kiwi batsman scored 94 runs off 39 balls, including 12 fours and five sixes on the strike rate of 241.02. The Duminy-led team completed their chase in 12.3 overs.
United secured the most convincing victory in the tournament's history in terms of balls (45 balls remaining); United's 103 off 8.1 overs was the fastest team 100 in PSL.
Karachi, however, are not eliminated. They'll face the winners of the first Eliminator between Quetta and Peshawar.
Ronchi was given assistance by the cameos of Sahibzada Farhan, Alex Hales and Samit Patel with their innings of 29, 14, 14 respectively.
Resilient fifties by Colin Ingram and Joe Denly lifted Karachi to 154-4 after Eoin Morgan opted to bat first. But the unstoppable Ronchi blasted the fastest half-century in PSL history (from just 19 balls) to make a mockery of Karachi bowling.
Messi takes Barcelona 11 points clear, Ronaldo hits four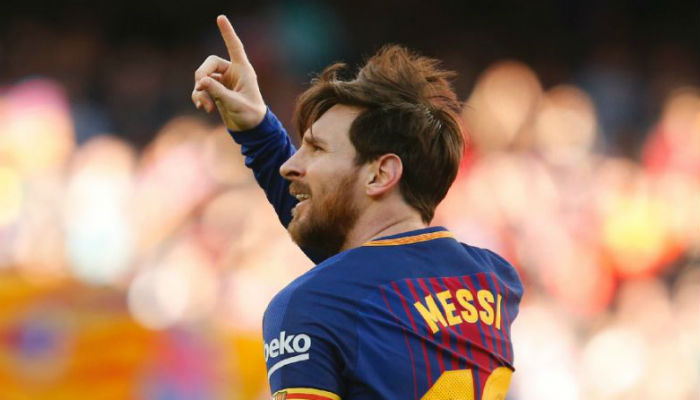 MADRID: Lionel Messi delivered another masterful performance as Barcelona sailed past Athletic Bilbao 2-0 on Sunday to take an 11-point lead over nearest rivals Atletico Madrid in La Liga.
After putting Chelsea to the sword in the Champions League midweek, Messi scored for the sixth game in a row against Athletic at the Camp Nou to propel Barca closer to the domestic title.
"Every day he discovers something new, something different, he´s very aware of what he has to do, what the team needs from him at each moment," Barca coach Erneste Valverde said of Messi, the Spanish league´s leading scorer this season with 25 goals.
"Many times it seems that the coach has to teach the players, but what the coach really does is learn alongside them as things go on. We hope to keep on learning together."
Not to be outdone by his greatest rival, Cristiano Ronaldo then hit four goals as Real Madrid downed Girona 6-3 to move into third place, albeit still 15 points off Barcelona.
A dominant start from Barca yielded the opening goal after just eight minutes as Messi found Jordi Alba out on the left, his pull-back neatly side-footed into the far corner by Paco Alcacer, filling in for the suspended Luis Suarez.
The hosts looked a constant threat early on and Philippe Coutinho was denied a second when he rattled the woodwork, while Ousmane Dembele should have done much better with just Kepa Arrizabalaga to beat.
But the Athletic goalkeeper was powerless to keep out a crunching low drive from Messi on the half hour, the Argentine taking a touch to control a pass from Dembele before lashing home.
Coutinho, the club´s record signing, struck the woodwork for a second time as he tried to lob Kepa after latching onto a clever lofted pass from Paulinho, who then smacked a curling shot of his own against the upright.
Record of invincibility nears
Barca extended their unbeaten La Liga run to 36 matches dating back to last season, drawing to within two games of the record set Real Sociedad between 1979 and 1980.
"I would love to (break the record) but why carry on talking about it if we can lose, win or draw the next game," Valverde said. "We´re not going to tempt fate. The next match in Seville will be a very difficult trip."
Real Madrid reclaimed third place from Valencia when Ronaldo took his La Liga goals tally this season to 22 with four in a 6-3 victory over Girona at the Bernabeu.
Ronaldo has now scored 21 goals in all competitions in 13 games since the turn of the year.
"I hope that he can catch Messi in La Liga (he is three goals behind), it´s important for him and for us," said Real coach Zinedine Zidane.
"When Cristiano plays well, the team plays well."
The Portuguese star opened the scoring with a deflection after 11 minutes, adding his second off the crossbar three minutes after the break when the two sides had been locked 1-1.
Ronaldo teed up Lucas Vazquez on the hour mark before completing his hat-trick four minutes later and adding a fourth in stoppage time.
Welsh star Gareth Bale was also on the scoresheet four minutes from time.
Second-placed Atletico effectively surrendered their hopes of overhauling Barca at the top, as two late goals from 20-year-old Turkey striker Enes Unal handed Villarreal a 2-1 victory over Diego Simeone´s side.
Antoine Griezmann converted a first-half penalty after he was impeded by Jaume Costa, before Koke hit the post.
But Unal headed in an 82nd-minute equaliser for the hosts and turned home a stoppage-time winner as Villarreal climbed up to fifth.
Sevilla crashed to a 2-1 league defeat by Leganes just days after pulling off the surprise elimination of Manchester United in the Champions League.
The loss means Sevilla are increasingly unlikely to qualify for the Champions League through La Liga this season.
Meanwhile, Real Sociedad sacked coach Eusebio Sacristan on Sunday with the team in 15th place with Imanol Alguacil installed until the end of the season
Shahid Afridi to bear expenses for hockey great Mansoor Ahmed's treatment
Former Pakistan skipper Shahid Afridi announced on Monday that he will pay for the medical treatment of former hockey goalkeeper Mansoor Ahmed.
"Shahid Afridi Foundation will bear all expenses of Mansoor's treatment and won't let him down," Afridi said.
The former hockey goalkeeper has been suffering from a heart ailment for the last month and has been advised by doctors to travel abroad for treatment.
According to information available with  Ahmed's heart is functioning at 20 percent. His other organs have also started failing.
The goalie who was admitted in the ICU for 18 days had part of his medical bill paid by the customs (Rs500,000) and the remaining amount (Rs1 million) by the Pakistan Hockey Federation.
Earlier during an interview, Ahmed had appealed to the prime minister to pay for his treatment.
Ahmed is best remembered for saving the last penalty in the final of the 1994 Hockey World Cup against Netherlands, securing the win for Pakistan